OUR FABRICS
VERSATILE WOOL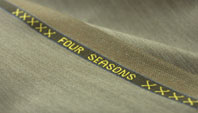 Wool is the most natural of fibers; carefully selected and expertly woven, there is nothing that can match its quality and its versatility.
Wool is naturally resilient and after stretching springs back into shape, thus resisting wrinkles. It is soft and luxurious to the touch and the fibers do not easily snag or break; a wool suit will look and feel "quality" for years, easily outlasting synthetic garments.
It readily and naturally absorbs water vapor which means that wool garments are comfortable to wear even on the hottest days, but also retain warmth in winter months. Wool is, though, water resistant and does not become damp and uncomfortable which makes it an ideal and popular fabric for outdoor sportswear.
At Giovani we select only the finest wool from established producers. The wool mills we use are long established and highly reputable, offering top quality material at very competitive prices. Every roll that leaves our Bangkok premises is personally checked by a member of our Quality Control team and given the Giovani seal of approval. We are proud of our strong links with major branded garment manufacturers throughout the world.
COOL COTTON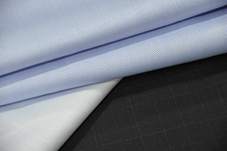 Cotton is arguably the world's most important natural fiber. Its versatility makes it an ideal material for a wide range of products including food, bedding and medical supplies; it is, of course, a staple of the clothing industry.
It is a soft breathable textile that possesses the important characteristics of strength, durability and absorbency. It has good color retention an important factor in the design and fashion conscious clothing market - and it is easy to clean and to care for.
The softness of the fiber makes cotton the most comfortable of materials, covering the soft and delicate skins of new born babies and following us throughout our lives. It plays the role of a natural "air-conditioner", absorbing humidity from the outside and emitting it to the outside.
Giovani has many years experience of the cotton market, and has developed a portfolio of suppliers that are themselves highly regarded in the industry, recognized for the quality of their fabrics and for their complete dependability. We offer the finest cotton for shirt production and our flexible and efficient stock management systems ensure that we able to respond speedily to the ever-changing demands of the market place.
WOOL BLENDS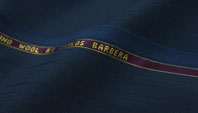 Blended fabrics have not enjoyed a good reputation over the years. However, polyester fibers used nowadays have improved significantly; the modern fiber is a spun filament yarn consisting of many tiny fibers twisted together to create a similar structure to wool. The new blends are consequently far superior and provide excellent crease resistance and a long life to the fabric. Providing the wool content remains above 50%, the wool characteristics - warmth, resilience, absorbency, good feel - remain, and, of course, the higher the wool content, the better the quality of the finished garment.
Giovani offer a range of blended fabrics with varying levels of wool content, but always above 50% to ensure the benefits derived from wool are maintained. We provide high levels of quality control management to ensure our fabrics adhere strictly to the stated specifications.
LINEN - FOR EVER!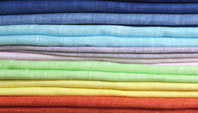 Made from the natural fibers of the flax plant, Linen is renowned for its long life and durability. With tensile strength far greater than either cotton or wool, these fibers become even stronger after exposure to water, thus linen textiles become softer and more comfortable over time.
Linen absorbs up to 20% of its own weight in moisture yet still feels dry to the touch. It then swells and releases this moisture to the outside air, self cooling through natural evaporation and making linen cloth always feel fresh and cool - great for those Summer months and in tropical heat.
Its natural absorbency makes it a very dye-friendly material and designers have made great use of this characteristic to produce exclusive and trendy clothing, with linen's natural shine adding a touch of elegance. Unlike other fiber material, Linen possess a unique "crushing" quality which provides an exclusive look and feel that works for both formal and casual wear. This versatility, together with the lightness of the materials and relatively low cost, makes linen a major player in the industry.
At Giovani, we offer a wide range of linen fabrics, from the renowned Egyptian material, soft and comforting, to Scottish and Irish flax recognized for its unique "whiteness", ideal for Summer months. We offer popular neutral and lighter shades in white, beige and light brown, as well as brighter, trendier colors, and all have the highly reputed Giovani quality seal of approval.
SOFT & GENTLE CUPRO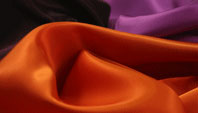 A regenerated cellulose fiber derived from cotton linter (the ultra-fine, silky fibers that stick to the seeds of the cotton plant after it's been ginned), Cupro is similar to rayon, but breathes and regulates body temperature like cotton. Its fine fiber structure and weight provides a silky texture that creates a fluid and elegant silhouette and free flowing drape - yet the fabric can be machine-washed, as it is resistant to stretching at high temperatures.
Unlike polyester linings it is free from static cling and is wrinkle resistant with excellent dye-ability and superior color affinity. It is seen by many to be the fiber of choice for quality linings and lingerie, fashion and casual apparel.
Bemberg Cupro
The Bemberg brand is renowned for its soft and gentle feel; its environmentally-friendly manufacture and biodegradable disposal; its creativity in stylish elegance and comfort.
The smooth and gentle contact between skin and fabric together with a fresh and relaxing elegance makes Bemberg Cupro the fiber of choice for a wide range of clothing, for bedding and interior furnishings, and for many other materials, world-wide.
Giovani is a proud supplier of Bemberg Cupro, as well as offering a range of cupro fabrics. We were an early adopter of the material and have developed a deserved reputation for supplying a wide range of high quality cupro products.